Free shipping to USA on all orders

Processing time: 1 day

USA Delivery time: 2-4 days


Orders are shipped out from Buffalo, New York. Orders are shipped in mailers that are made out of 100% recycled fibers.
Try Sir Waggington's risk-free! If you don't love our dog poop bags, we'll give you a full refund. No questions asked.
- 105 Poop Bags (7 rolls with 15 Poop Bags in each roll)
- Size of Poop Bag: 9 x 14 inches
- 100% Organic (made from cornstarch)
- One size fits all sizes of waste
- Strong & Leak-Proof
- Scent: Unscented
- Orders are shipped in mailers that are made out of 100% recycled fibers.
How many poop bags are in a roll?
15
Are the rolls unscented?
Yes, our rolls are unscented
How big is each poop bag?
9 inches wide and 14 inches in height
Where is Sir Waggingtons based out of?
We're based out of Canada and our fulfillment center ships products from Buffalo, NY. We ship our poop bags with USPS.
I have a big dog, are these bags big and strong?
Yes! Our poop bags are great for dogs of all sizes. They're 9 inches wide and 14 inches in height. They're super easy to tie and there's more than enough space to hold your dog's waste.
How strong are these plastic-free poop bags?
Our poop bags are strong enough to hold a 4 lb dumbbell with ease.
Are your Cornstarch poop bags strong?
Our cornstarch poop bags can hold a 4 lb dumbbell with ease. They can easily hold the heaviest of dog poops without ripping or tearing.
What standards do your poop bags meet?
Our cornstarch poop bags meets ASTM D6400 and EN 13432 standards 
What are your dog poop bags made out of?
Cornstarch and PBAT (biodegradable copolymer)
Will your rolls fit in a standard poop bag holder?
Yes, our rolls easily fit in standard poop bag holders
What currency are the prices in?
USD

Where do you ship to?
We ship to Canada and the USA.
Is shipping free?
Yes, shipping is free within the USA on all orders
How long does delivery take?
Our processing time is 1 day and delivery time to U.S. customers is 2-4 days.
What methods of payment do you accept?
We accept VISA, Mastercard, PayPal, Apple Pay and more! Unfortunately, we do not accept Discover cards at the moment.
Why do you love selling poop bags?
Our mission is to save 10,000,000 plastic dog poop bags from reaching landfill. Every order makes us happy knowing that we're one poop bag closer to reaching our goal. The better part is having our customers joining our journey and helping make the world a better place, one poop bag at a time.
What's your refund policy?
If you don't love our dog bags, we'll give you a full refund. Simply email us (hello@sirwaggingtons.com) and we'll guide you through the return process.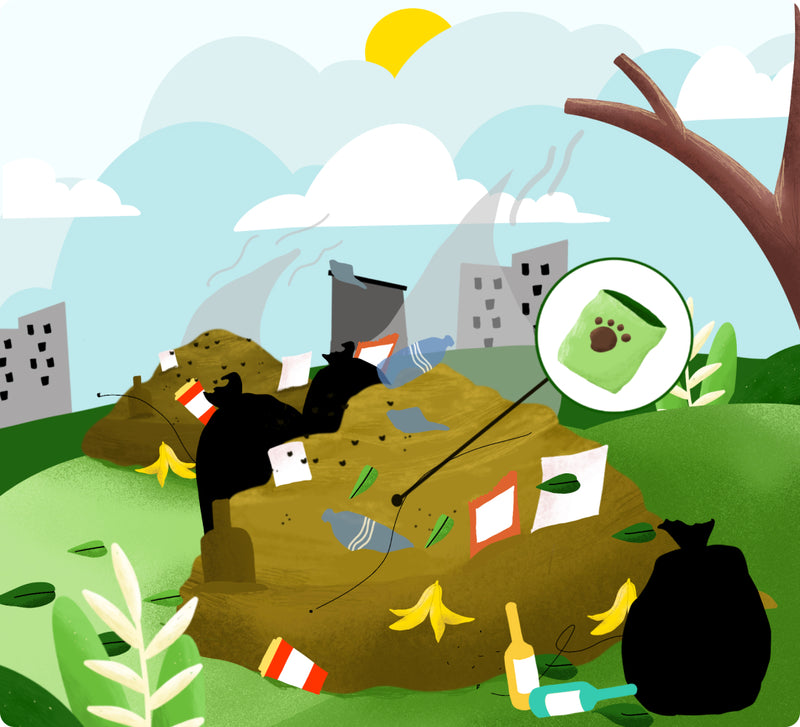 OVER 100 MILLION PLASTIC DOG BAGS END UP IN OUR LANDFILLS EVERY YEAR
Over 100 million plastic dog bags end up in our landfills every year. Although they are very cheap to buy, it's causing an increasing amount of damage to our environment and wildlife.We love our furry friends but the plastic dog poop bags we're using will take thousands of years to break down in our landfills. Plastic bags also pollute our soil and water.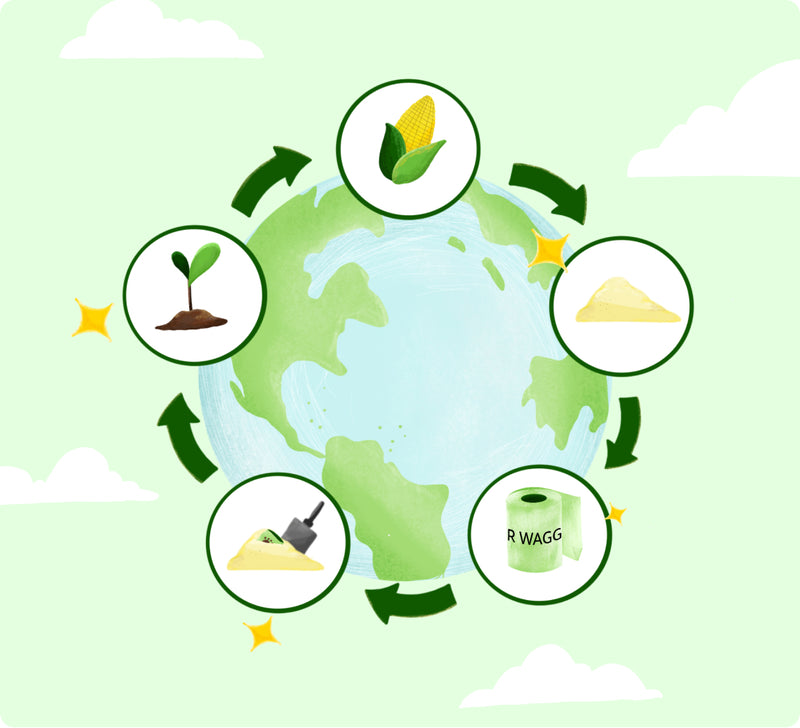 DOG POOP BAGS MADE FROM CORNSTARCH KEEP THE ENVIRONMENT CLEAN
 AND CONTRIBUTE TO A HEALTHIER PLANET EVERY DAY.
Every cornstarch bag manufactured goes towards slowing down plastic pollution. Our bags are 100% compostable and 100% Eco-friendly. This means that our bags only take 3 months to decompose. This way we keep the environment clean and contribute to a cleaner planet every day. No plastic, zero waste.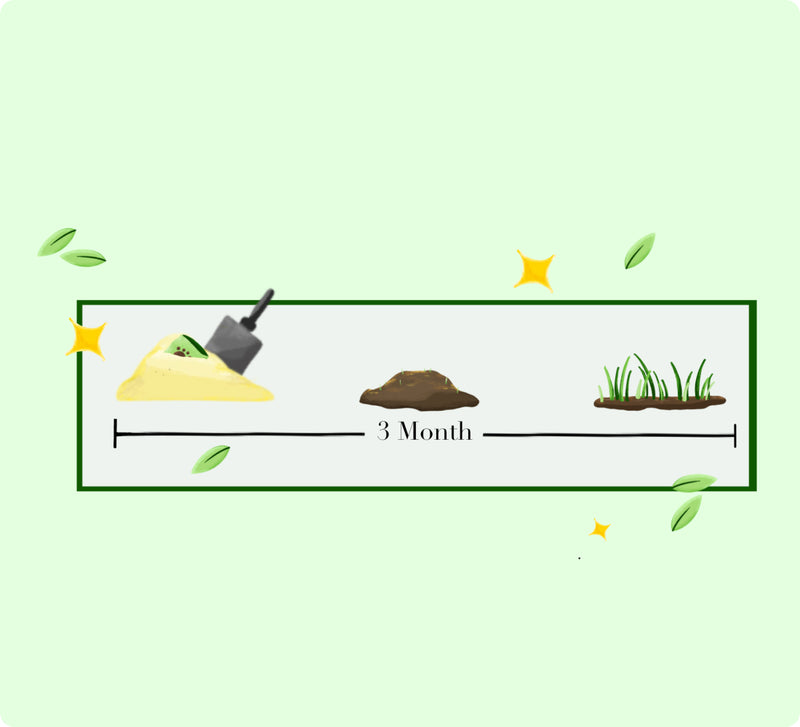 COMPLETELY GONE IN LANDFILL WITHIN 3 MONTHS
Our 100% organic dog bags are plastic-free and zero-waste. They only take around 3 months to decompose in landfills compared to plastic which takes thousands of years.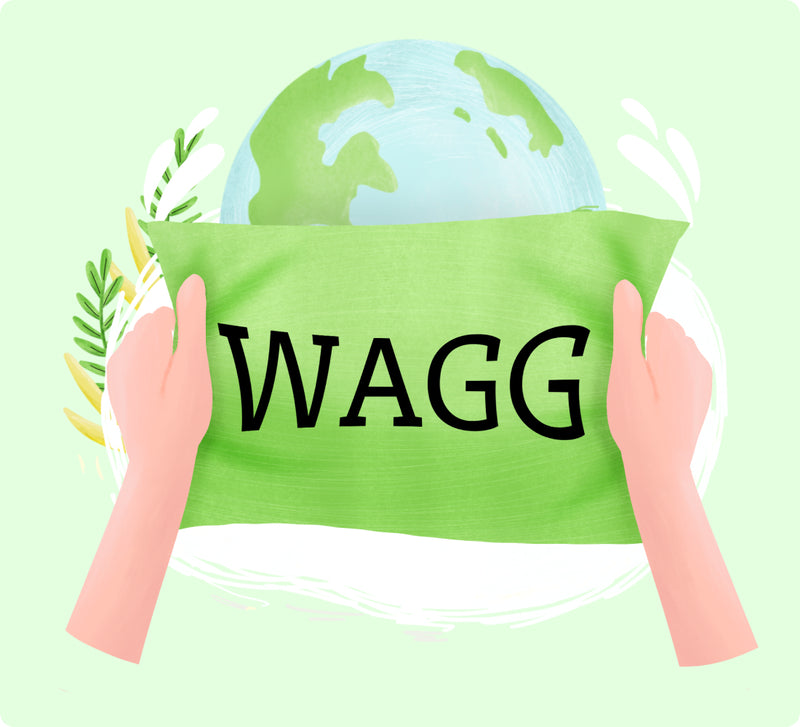 STRONG, DURABLE & LEAK-PROOF
Our bags are thick and won't tear or rip unlike most plastic dog poop bags.
They're also big enough to fit larger poop. Our bags are 9 inches wide and 14 inches in height.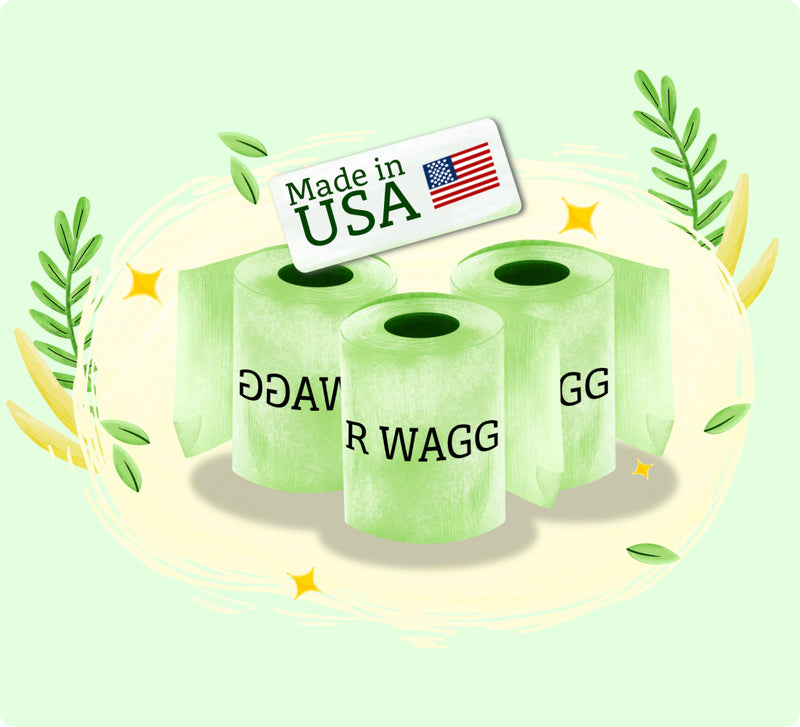 Locally produced in the USA and shipped in mailers made from 100% recycled fibers.
We place very high value on the environment and quality of our dog bags. In order to avoid unnecessary transport routes, which occur with production abroad, we produce our dog bags at selected local producers who meet our high standards of sustainability and environmental protection.
We also offer free shipping within the USA and Canada. In addition, all orders are shipped in mailers made from 100% recycled fibers.
These are the best biodegradable!
Best compost poop bags
Easy and reliable subscription service and the bags are tough and compostable—what more could you want from a poop bag?!
They are the best poop bags we have had. I love they are not plastic!
Compostable yet strong!
Never have to worry about bag throwing a hole when "picking up"!!
Great bags and earth conscious!
We walk our dog daily. We have tried to green up our life as much as possible were tired of all the little plastic bags that we were contributing to the landfill. When we saw Sir Washington's ad, we decided to try them. We are so happy we did! They are sturdy enough for our dog's output but we are glad they will decompose quickly! Excellent choice for all dog owners!